2

Real Estate
2.1

Zillow Home Value Index

One of the hallmarks of the Great Recession was its profound effect on housing markets nationwide. Since then the health of these markets have garnered significant attention and has been used as an indicator of potential future downturns. Since the downturn, most housing markets in the Western United States have, in fact, recovered. Colorado has seen exceptional growth and is now 60% higher than its pre-recession peak.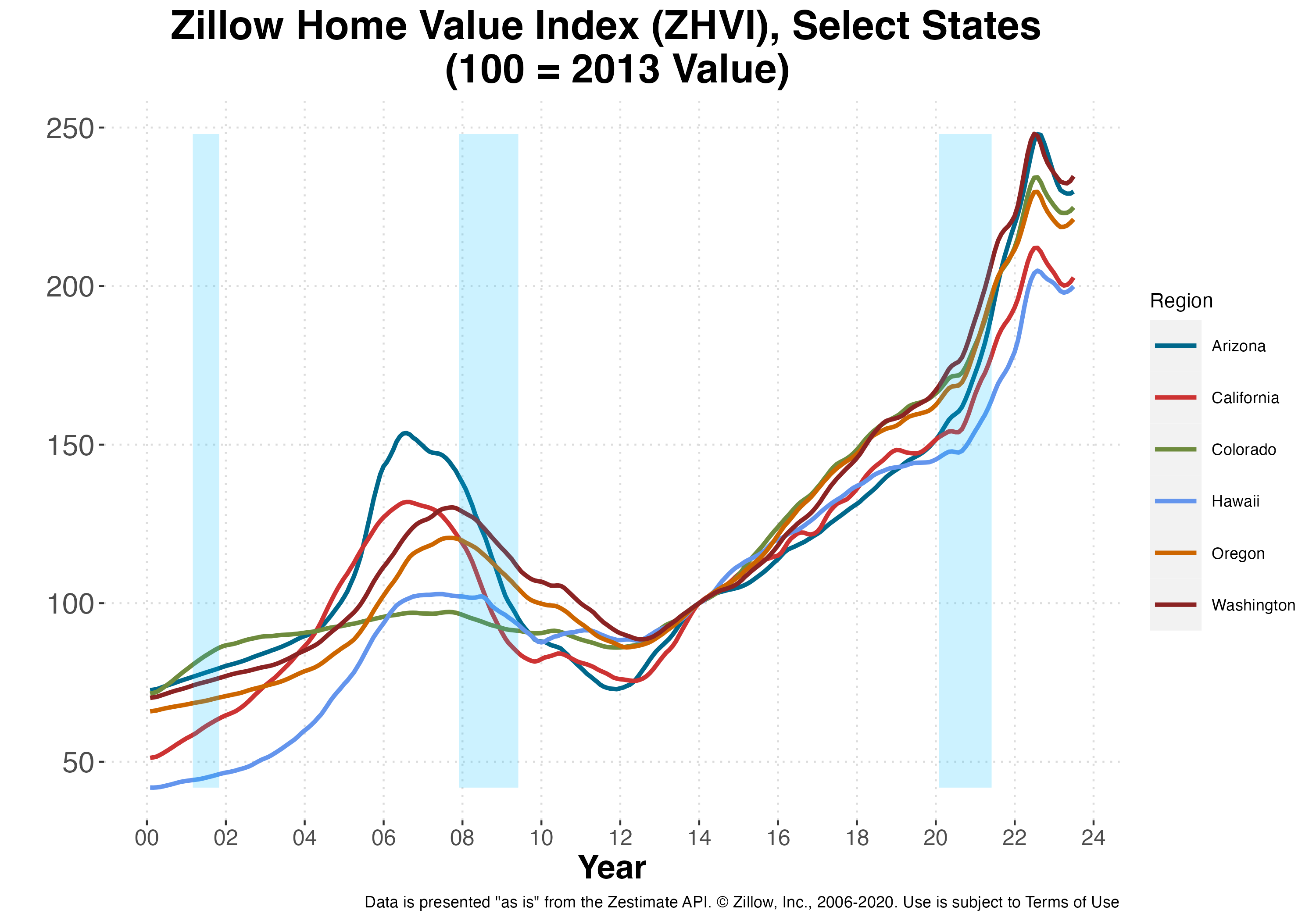 The recovery of the California housing market is reflected across much of the state. Overall, Californian homes are worth $547,400, roughly 1% above their pre-recession peaks. Over the metropolitan areas shown below, Los Angeles, San Francisco, and San Diego have seen the largest recovery.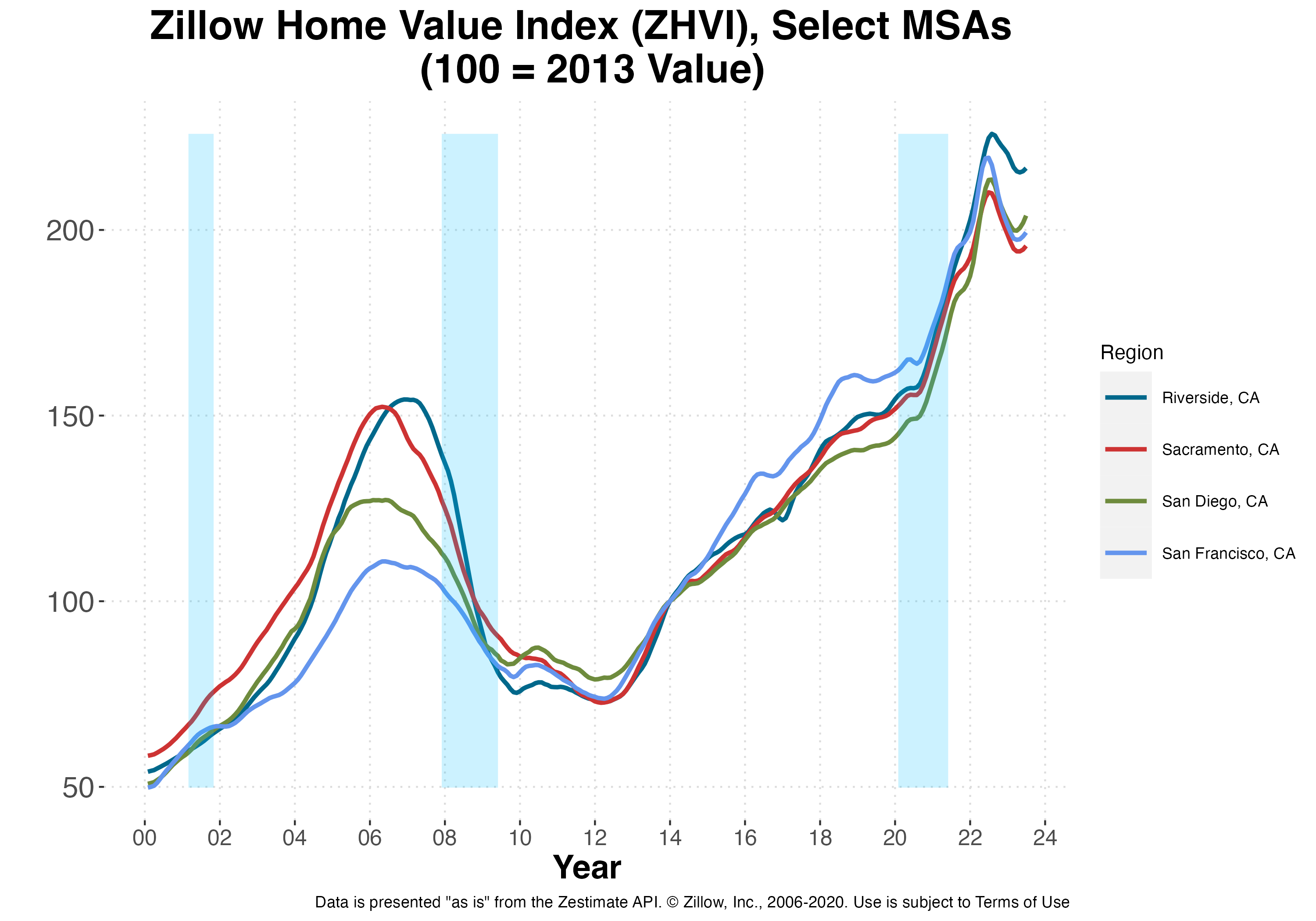 Within Santa Barbara County, Santa Barbara City and Montecito have both more than recovered from the Great Recession. Many of the others, however, remain below.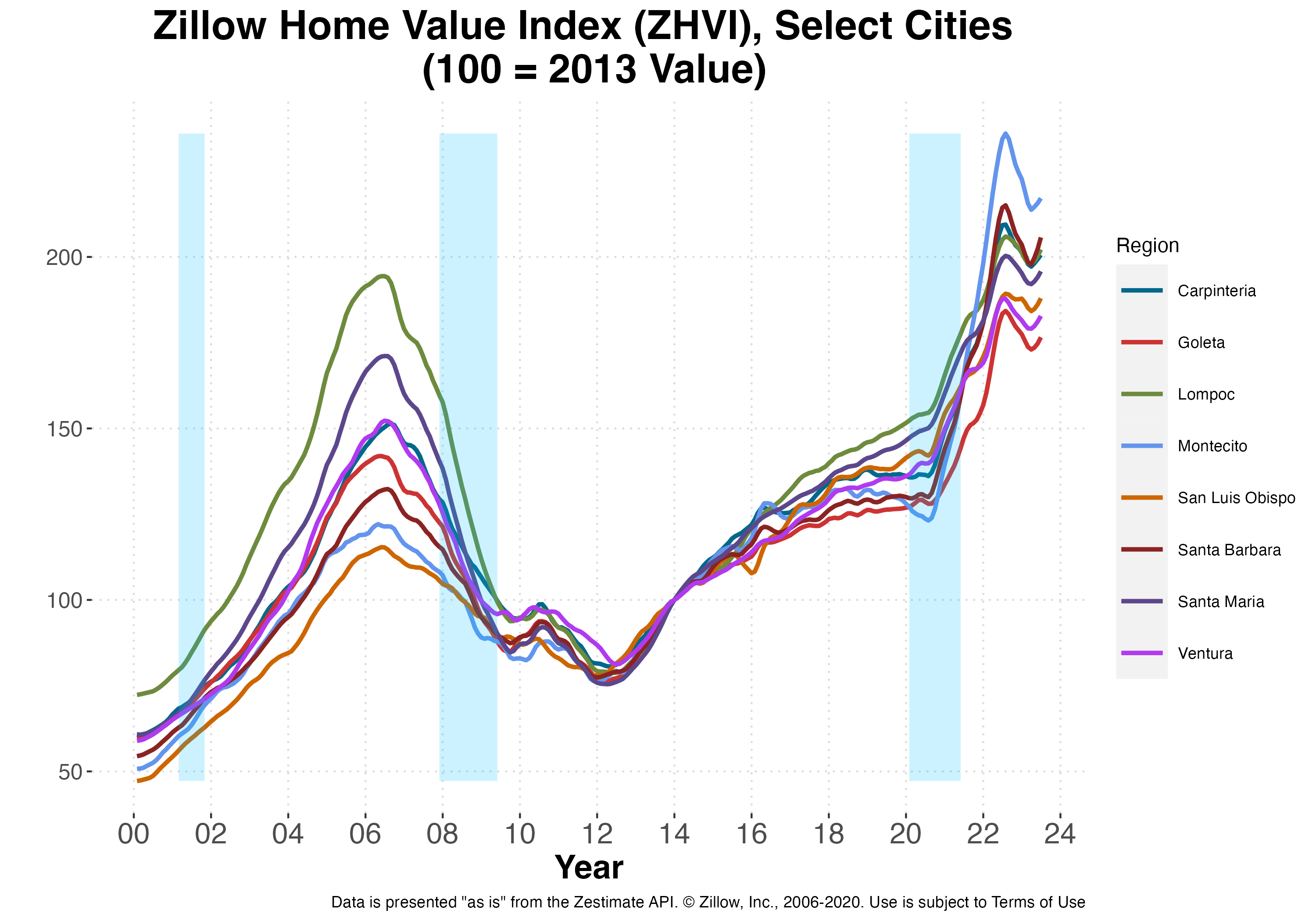 The slowdown in growth of the California housing market has also been felt by Santa Barbara County's cities. Save for recent trends in Goleta, many other cities have seen a slow decline in the growth of home values.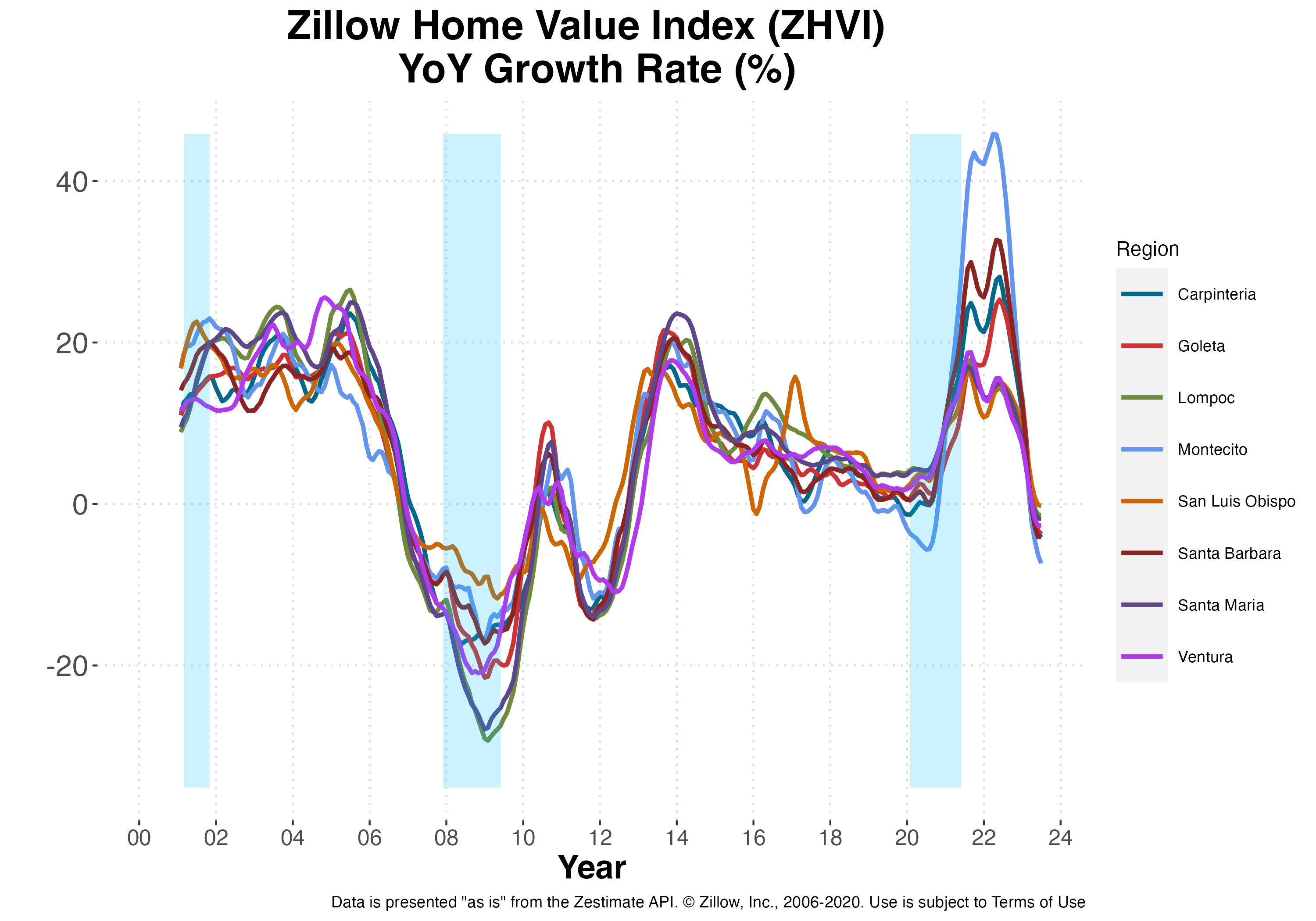 ---
2.2

Santa Barbara County Recorder's Data
Month
Count
Avg Sales Price
Avg Price Change
Median Price
Median Price Change
May 2019
192
1499492
3.7
$1,067,500
5.5%
May 2020
86
1812488
20.9
$1,038,750
-2.7%
May 2021
224
2766614
52.6
$1,600,000
54%
May 2022
151
2232040
19.3
$1,600,000
0%
Month
Count
Avg Sales Price
Avg Price Change
Median Price
Median Price Change
Jan-May 2019
785
1488191
4.2
$1,025,000
4.1%
Jan-May 2020
597
1460780
1.8
$1,058,500
3.3%
Jan-May 2021
1057
2374087
62.5
$1,406,500
32.9%
Jan-May 2022
745
2593896
9.3
$1,660,000
18%
Jan-May 2023
95
NA
NA
$ NA
NA%
Month
Count
Avg Sales Price
Avg Price Change
Median Price
Median Price Change
May 2019
3645
448648
1.5
$377,000
0.5%
May 2020
5415
626435
39.6
$465,000
23.3%
May 2021
3660
631117
0.7
$515,000
10.8%
May 2022
3150
712548
12.9
$565,000
9.7%
Month
Count
Avg Sales Price
Avg Price Change
Median Price
Median Price Change
Jan-May 2019
966
466212
2.7
$388,250
0.8%
Jan-May 2020
2202
538831
15.6
$425,000
9.5%
Jan-May 2021
1128
606542
12.6
$490,000
15.3%
Jan-May 2022
1069
693025
14.3
$565,000
15.3%
Jan-May 2023
141
NA
NA
$ NA
NA%